Here's a list of all my characters to date. Surely this list shall grow in the future, but for now here it is starring Duranka, Jeranovax the Manipulator, and Jerosi Delamarz.
Name: Duranka
Age: 18
Gender: Male
Height: 6'
Weight: 168 lbs
Elements: Earth/Water
Appearance:
Bio: Duran grew up as a fairly normal child, although something would have seemed fairly backwards to most people. His mother was an Earth bender while his father a Water, that fact alone turning most people to think that it would have never worked out. But they were a happy couple. From an early age he was trained in both forms of bending by his parents, as well as traditional Water Tribe combat techniques. By the time he was 10 he was already working on stringing his two bending disciplines together into a custom fighting style. At the age of 13 he inherited his father's sword, and sent off on a pilgrimage to two places to complete his bending training. His first was a trip to the South Pole to train in the Water bending school founded by none other than Master Paku. And his second was a bit more "Down to earth" so to speak, as he traveled to two destinations for his next part. First was a place called "The Cave of Two Lovers", a winding network of tunnels through a mountain that had the coast on one side and Omashu on the other. There he studied the badgermoles like he had heard was done by the great Earth bender Toph. After many months spend in the tunnels, he then traveled to a vast desert in the middle of the Earth kingdom that was somewhat close to Ba Sing Se. There, he trained with the sand benders, learning new techniques that served him well over the next few years. Returning home at the age of 16, he had a grand family reunion and was then introduced to his two year old sister whom was born while he was away. The next year was nice and quite, but somewhere between his 17th and 18th birthday's something tragic happened. A mighty hurricane battered the coast where their house sat upon the cliff. Wind and lightning and raging seas threatened to tear half the cliff face into the ocean along with their house. He and his parents put up a valiant fight against the storm but in the end it was too much, and he ended up losing his home and his entire family in one night. It was probably his mother's stalwart attitude that kept him going after that. From that day he vowed to train and truly master his bending disciplines so that should he be called upon again to help someone he would not fail. All in all he's a fairly laid back person although from time to time he can be easily agitated. When he's not training or helping people he spends the majority of his free time gambling.
Name: Jeranovax the manipulator
Gender: Male
Hero/Villian/Random: Generally hero, although sometimes the villain when he's feeling mischievous.
Super Hero Name: Is typically referred to as "That one guy!"
Appearance:
Powers:
Exoproxykinesis
Water into Mountain Dew
Jaranovax is a pretty laid back guy. Keeping to himself for the most part he does his bit for the common good. Using his powers over momentum and all it entails, his fight against evil normally runs smoothly. His other ability ties into his serious addiction to Mountain Dew, and is normally the one that gets him in trouble when he's feeling mischievous. A usual tactic for him is to enter his slowed state of reality and use the momentum of other things to manipulate his body as well as halt whomever, making it appear as if nothing at all has really changed although he starts moving in a jerky manner. He also kicks his power in the moment he see's a gun, making that his first priority. Since it takes a moment for him to enter his out-of-body state he really fears guns, bullets being quite hard to stop even in his time resistant state.
Last edited by Daimos on Sun Jan 30, 2011 8:06 pm; edited 1 time in total
Name: Jerosi Delamarz
Age: 19
Gender: Male
Height: 5'11"
Weight: 168 lbs
Appearance: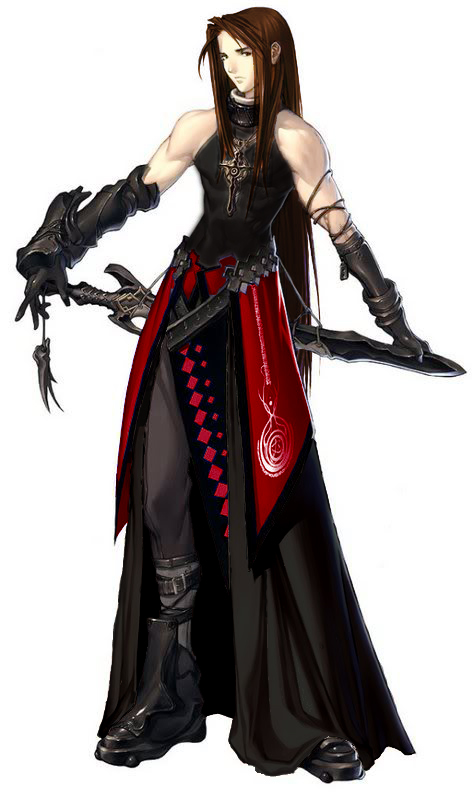 Desc: A young prodigy in combat, he still thinks of himself as an amateur but is in reality an exquisite swordsman. He loves fighting but tends to hold a quite aloof method to combat, usually ending up being quite comical and evasive in his tactics. Rarely does he go onto the hardcore offensive but when he does he's a force to be reckoned with. Boasting no special skills other than near inhuman speed and reflexes, he usually ends up slicing his opponents to ribbons. He's even developed a technique with which he can use air for a mid ranged attack by either using his sword or his gauntleted right hand.
Last edited by Daimos on Sun Jan 30, 2011 7:52 pm; edited 1 time in total (Reason for editing : (Desc updated finally. Couldn't really think of anything too good until now for him.))
---
Permissions in this forum:
You
cannot
reply to topics in this forum